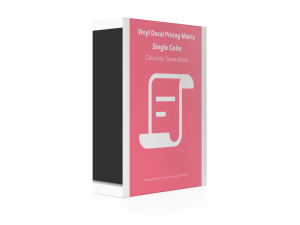 Unlike other pricing sheets, our calculators will give an accurate cost to make pricing within the pricing chart because the prices are based on your actual data. Data input includes:
Amount of Decals to make
Vinyl Cost
Vinyl Transfer Paper Cost
Labor Wage
Design Time
Total Production Time
After you input data, the calculator will automatically calculate your cost to make within a matrix. The numbers on the top and sides represents your product dimensions. Easily look at the size you need and get your cost to make price. 100% Customizable. Instant Download. Works with Microsoft Excel, Google Sheets, and Numbers
Download Editable Spreadsheet
Editable Spreadsheets works with Google Sheets, Excel, and Numbers. Get a Full Access Membership to download all current and future spreadsheets. Download the Editable Spreadsheet file below.