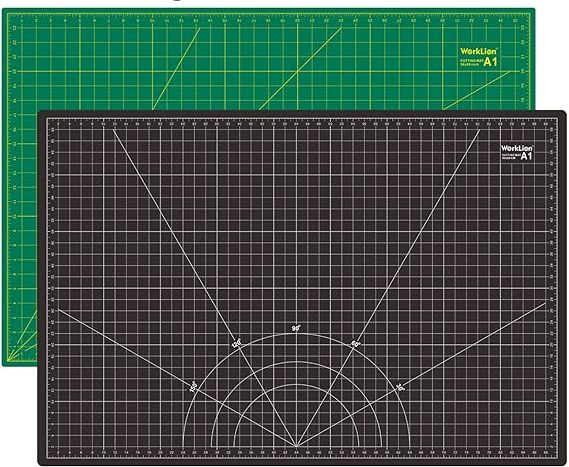 Hello to all the creative minds out there! Today, I want to share with you a discovery that has been a total game-changer in my crafting adventures. It's the 18" x 24" Large Self Healing PVC Cutting Mat. This isn't just another crafting tool; it's a true asset for anyone passionate about their craft projects.
Why This Cutting Mat Has Won My Heart
Built to Last: What I love about this mat is its durability. Made from high-quality PVC, it features a self-healing design. This means that it doesn't show cuts easily, keeping your workspace looking neat and tidy.
Generously Sized: The 18" x 24" dimensions provide ample space for a variety of projects. Whether you're working on a small piece or dealing with larger fabrics, this mat has got you covered.
Accuracy at Its Best: The clear grid lines and angles on the mat ensure that every cut you make is precise. This is particularly helpful for projects that require exact measurements.
A Versatile Companion: I've used this mat for various tasks, including cutting vinyl for custom T-shirt designs and creating intricate vinyl decals and stickers. It's suitable for all skill levels, making it a great addition to any crafter's toolkit.
Surface Protection: Besides helping with precise cuts, this mat safeguards your work surfaces. Say goodbye to scratches or knife marks on your tables!
Get Yours Today
Interested in checking out this mat for yourself? You can find it on Amazon. By the way, using our link to make your purchase helps us to continue sharing our crafting journey and tips with you.
A Crafter's Essential
Having the right tools can significantly enhance your crafting experience. Since I started using this cutting mat, I've noticed a marked improvement in the ease and quality of my projects. It's not just a mat; it's a partner in your creative endeavors. Whether you're into making custom T-shirts, unique decals, or any other creative venture, this mat is sure to be an invaluable addition to your crafting toolkit.
Keep crafting, and always remember that the best projects are created when you have the right tools at your fingertips!