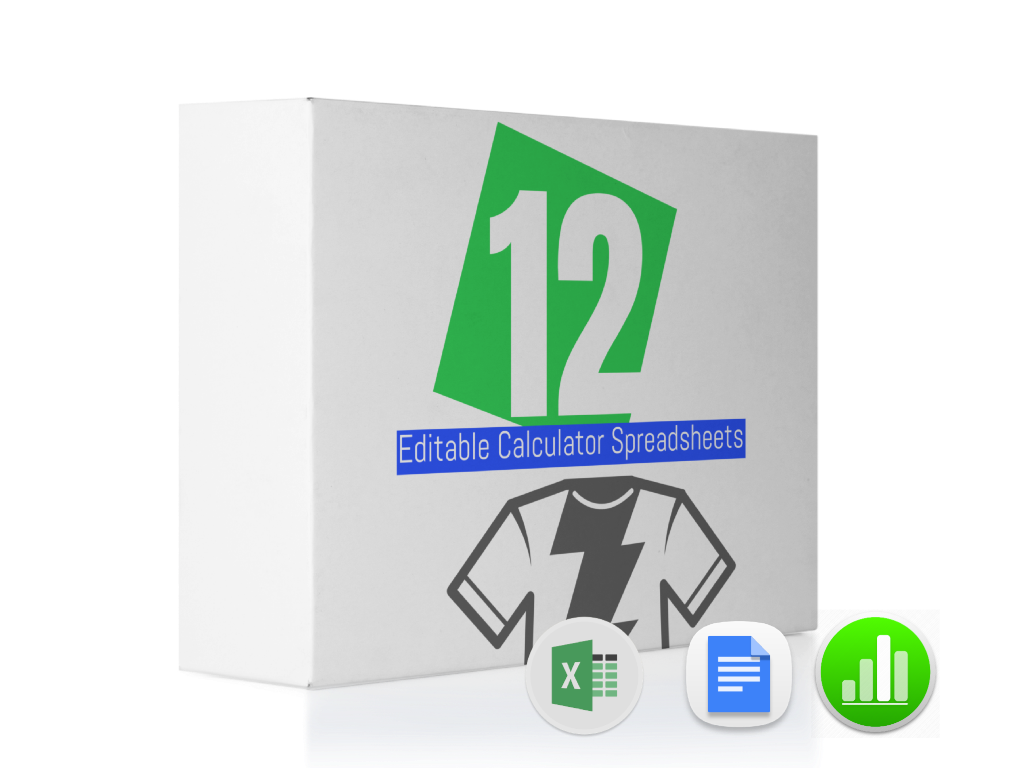 T-Shirt & Decal Bundle
12 Spreadsheets
Change your crafting business with our personalized package! No matter if you require custom vinyl t-shirts or pricing for adhesive decals, we've got you covered. Prepare to elevate your business to the next level. Place your order now!
Turn Your Crafting Into a Business
If you're a Crafter aiming to boost your profits, the HTV & Decal Spreadsheet Bundle is a must-have tool. This bundle includes 12 editable calculators that allow you to optimize your prices in a professional and effortless way, all with just one purchase! These calculators are compatible with Google Sheets, Excel, and Numbers. You can download the bundle immediately after purchasing it in a .zip format.
You can set your retail prices higher because you know what it cost to make.
Calculators are editable so you can customize them for your business
Know how much profit you're making on each product.
Increase the value of your products by knowing their true worth
Get material estimation cost with ease.
Compatible With:

The 12 Editable Spreadsheets!
Heat Transfer Vinyl
HTV Pro- 1-10 Designs
HTV 2 Color Design Products
HTV 3 Color Design Products
HTV 4 Color Design Products
Decal Calculators
Decal Vinyl Pro- 1 to 10 Designs
Single Design- Bulk Product
Adhesive Decal Installation
BONUS Calculators
Single Vinyl Design Cost
How Many Vinyl Designs Can I Cut
Vinyl Material Cost Estimator
Wholesale and Retail Cost
Design and Setup Time Cost
A Couple Spreadsheet In Action
Download Directly after Purchase
What Our Clients Are Saying!
That's right! Our spreadsheets are still available for purchase on Etsy. The exciting news is that our store's success has led us to create our own website, enabling us to offer even more benefits and lower prices, including bundle deals.