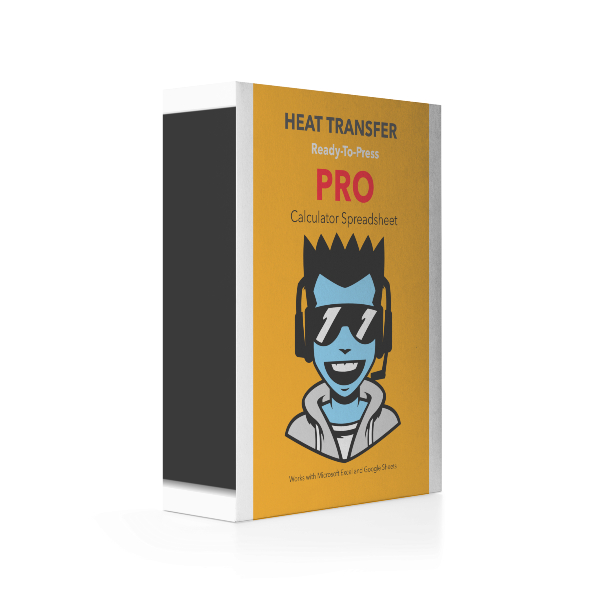 Elements used to calculate pricing:
Garment / Substrate Pricing Matrix (Input Quantity and Price)
Artwork Design
Prep Cost
Set Hourly Rates
Amount of Each Design to Press
Pressing
Packing
Shop Overhead
Retail Markup
This Calculator is so advanced, we could not create a Web-App for it! This Calculator is for ready made heat transfers. If all you have to do is heat the garment, apply the purchased transfer, then press? Then this is the perfect must have tool to maximize your pricing. Remember, each calculator will give you cost to make, suggested retail, and wholesale pricing with production and pricing graphs automatically generated.
The main goal for this calculator is to determine your cost to make, retail, and wholesale price for purchased heat transfers for products or projects. The heat transfers come from a third party vendor so all you have to do is press. You can use this calculator for any substrate that will allow you to press heat transfers such as hoodies, t-shirts, bags, etc.
After your cost to make is determined, the calculator will then give suggested retail cost and wholesale cost for the individual product and for the entire project. Powerful graphs will automatically populate to give you powerful insight on your production rate and profits. This calculator can handle up to 5 heat transfer designs on one product. Do you have multiple designs on gang-sheets? We also included a gang-sheet section so you can calculate your prices with ease. We also included a packaging section that will allow add-ons to your product such as tags, business cards, sizing stickers, etc. 100% Customizable. Instant Download. Works with Microsoft Excel, Google Sheets, and Numbers
Download Editable Spreadsheet

Editable Spreadsheets works with Google Sheets, Excel, and Numbers. Get a Full Access Membership to download all current and future spreadsheets. Download the Editable Spreadsheet file below.